As I was going through my database, seeing if there were any people with anniversary coming up, I came across George Denison, my wife's 10 great grandfather. He passed away on 23 October 1694 in Connecticut. He has a pretty cool looking gravestone. This is a postcard of it from a while back. I think today it has been replaced with a new stone that is a replica of this one. You can see the new one at
Find-A-Grave.com
.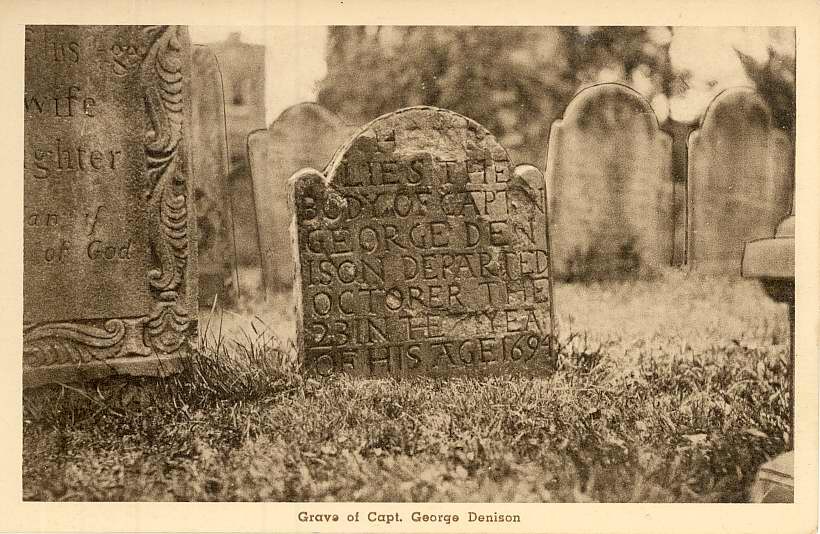 He sounds like he was a pretty cool historical guy, coming to America in 1631 and later fought battles and stuff. His grave says he was a captain, but I think he later became a colonel. This written account of him has some more detail on his life. You can find it in
New England families, genealogical and memorial: Vol 3
, by William Richard Cutter on pages 1175-1176.
(II) Colonel George, son of William Denison, was born in Bishop's Stortford, in 1618, baptized December 20, 1620. He came to this country with his parents in 1631. He was thoroughly educated for his time, and had as tutor the famed John Elliot, who followed Roger Williams as missionary among the Indians. He went back to England and served as an officer under Cromwell in the parliament army, won distinction and was severely wounded in the battle of Naseby, and was nursed at the home of John Barodell, whose daughter he afterwards married. He returned to Roxbury, but later settled in Stonington, Connecticut, where he had a long and honorable career. He was always engaged in civil and military affairs, became a captain while in Roxbury, beside managing his large estate of five hundred acres. His house in Stonington was surrounded by a stockade fort against the Indians, and he also had a stone fort within the stockade.

He commanded numerous expeditions against the Indians and was always most successful when commander-in-chief. He participated in the famous and destructive Narragansett Swamp fight in December, 1675., In the following February, 1676, a series of forays was commenced against the Narragansetts, who had identified themselves with Philip. These partisan bands were commanded by Denison and James Avery, and were composed of volunteers, regular soldiers, Pequots, Mohicans and Niantics. The third of these excursions began in March and ended April 10, 1676, resulted in the capture of the last sachem of the Narragansetts, Canonchet, by Denison, and his men, a little above Pawtucket. The death of Canonchet is one of the most touching tragedies in American history. The following June, Colonel Denison commanded a company against the Indians in Massachusetts and moved as far north as Northampton. After a short rest he marched to the northwest of Providence, which only three months before had been laid in ashes. He then went south to Point Judith and along the coast to Stonington. In these marches he made a brief halt on Kingston Hill, to which his soldiers gave the name "Little Rest." He afterwards marched into Plymouth colony and then pushed west to the Housatonic. He and Avery conducted no less than ten expeditions and broke forever the hostile Indians' power. In these he bore a conspicuous part and won for himself undying fame. Numerous tracts of land were given him for his military services, so that at his death he owned several thousand acres in Stonington, Norwich, Windham and the western part of Rhode Island. From 1661 to 1694 he represented Stonington for fifteen sessions of the general court.

He married (first) in 1640, Bridget, daughter of John Thompson, Gentleman, of Preston, Northamptonshire. England. She died in 1646, and he married (second) Ann, daughter of John Barodell, in whose home in England he was nursed after being wounded in the battle of Naseby. Both he and his wife Ann were distinguished for magnificent personal appearance, and for force of mind and character. At Stonington she was commonly called "Lady Ann." She died September 26, 1712, aged ninety-seven years. Her handsome slate headstone can still be seen in the Elm Grove cemetery, Stonington. He died in Hartford, Connecticut, while there on public business, October 23, 1694, and was buried in the yard of the First Church (Center). His granite monument is in the Elm Grove cemetery with that of his wife. Children of first wife: Sarah, Hannah. Children of second wife: John, mentioned below; Ann, Barodell, George, William, Margaret, Mercy.